THE CHALLENGE
To modernise a historic town house, maintaining its character whilst opening up spaces and circulation to allow flexible use for home and work.

THE OUTCOME
The reformation of an historic town house into a contemporary open-plan 4 bedroom home, combining individual apartments. New circulation allows a variety of spatial combinations between and across floors, allowing maximum flexibility for different uses shared throughout the building.

The mares sandstone facade onto the main original central square of the town.

Minimal pivoting timber window carpentry overlooking courtyard and neighbouring church tower.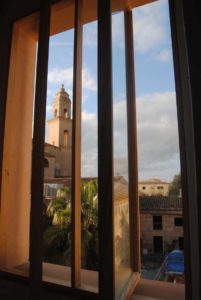 Originally the town bakery, the facade retains its balanced but asymmetric composition, with original railings, glazing and shutters.